Kuraray Noritake
Shaping the future of esthetics
Kuraray began to develop dental products in the 1970s. Today we are recognized as an innovator in the research and development of dental products that simplify everyday dental procedures while delivering first-class, lasting results.
In April 2012, Kuraray Medical Inc. and Noritake Dental Supply co., Ltd. joined forces to become Kuraray Noritake Dental Inc. With the merger of these two multinational companies, Kuraray Noritake Dental was born.
The company now benefits from an exceptional know-how in organic and inorganic chemistry. With its combined expertise, Kuraray Noritake Dental is now moving forward to develop further high-end dental products – from ceramics to composites and even bio-materials.
KURARAY NORITAKE DENTAL – CLOSER TO YOUR NEEDS
With a strong presence in over 90 countries, Kuraray Noritake Dental is closer to dental professionals and their needs than ever before. Products like CLEARFIL SE BOND, the resin cement PANAVIA V5 and the composite CLEARFIL Majesty ES-2 are now household names. Ground-breaking adhesives, composite cements and composites are continuously improving dental care for both practitioner and patient.
Thanks to our dense global network of depots, dentists across the world can have direct local access to a range of Kuraray Noritake Dental products and services supported by educational symposia, technical training, 'how to' videos and colour selection solutions. In addition, Kuraray Noritake Dental provides dentists with access to a rich and vast academic resource along with academic papers offering an in-depth insight into our latest technological advances.
INVENTOR OF MDP: THE CORE INGREDIENT OF MODERN BONDING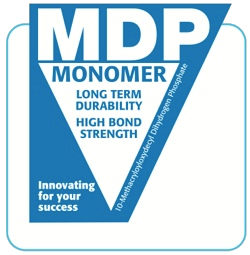 Kuraray Noritake Dental is constantly creating ever-more sophisticated and innovative products. Back in 1981 we invented the 10-methacryloyloxydecyl dihydrogen phosphate – commonly known as MDP, the adhesive monomer which achieves a durable bonding with enamel, dentin, metal and metal oxides. To this day no other monomer has been able to improve on the performance of the original product which is a major component in CLEARFIL bondings and PANAVIA cements.
SHAPING THE FUTURE OF AESTHETICS
Kuraray Noritake Dental has an extensive range of multi-layered zirconia under the brand name KATANA Zirconia, a collection of high-performance zirconia discs for crowns, bridges, frameworks and even veneers. We use the highest grade zirconia resulting in consistently outstanding aesthetics and durability especially when combined with the best pre-processing techniques.
2020: KATANA Cleaner
KATANA CLEANER is the first intra- and extra-oral universal cleaner.
During trial fitting your restoration might become contaminated with proteins reducing the bond strength. KATANA Cleaner has a high cleaning effect due to the surface active characteristic of MDP Salt. In contrast to other cleaners, KATANA Cleaner has a pH value of 4.51 which allows usage not only extra-orally but also intra-orally. It is the easy way to optimise bondings including cementation procedures.
Kuraray Noritake supports its customers through all phases of professional development, including training and education. To have more information on upcoming webinars please visit our website. Webinar missed – no worries! Most of our webinars are available ON DEMAND on our website for later viewing.